Bass Angler Magazine Editor-in-Chief Takes to the Water for ProPatterns Film Contest
As the ProPatterns Exposed Eligible? film contest enters its final month, Mark Lassagne, Editor-in-Chief of the popular quarterly Bass Angler Magazine, set out on the water with camera to capture a day of fishing that will soon serve as his entry into the Exposed Eligible? film contest. This was an chance for the industry editor to be on the other side of the story sharing his industry knowledge, in this one of a kind video opportunity being hosted at http://www.propatterns.com.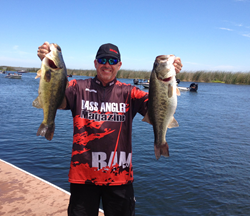 Being able to get in the boat with these guys helped me open my eyes to what other people were doing.
Yankton, SD (PRWEB) August 06, 2014
Lassagne as a tournament angler brings not only his experience on the water, but also twenty years of industry expertise, having founded Bass Angler Magazine two decades ago and, since then, building the periodical into the premier "how-to" magazine it is today. Each issue features over two-dozen articles that profile top professional anglers who offer the insight that has led to their success.
Lassagne took a few minutes to speak with ProPatterns after a successful day of filming to discuss what a contest like Exposed Eligible? could mean for those who take the chance at becoming "exposed."
The contest, which has been running since June, offers fans of all levels of experience the chance to create and upload a three-to-five minute video that focuses on education about angling practices as they relate to specific patterns, bodies of water, use of equipment, creation of techniques or equipment, tournament practices, ethics or other topics pertaining to fundamental learning for use by other anglers. The contest offers the entrants the opportunity to showcase their skills not only for thousands of fans, but also for a panel of Exposed pros who will be judging the top ten entrants.
Lassagne, hot off the water, discussed the challenges professional anglers face and the opportunity a contest like Exposed Eligible? could offer unknowns. "A lot of things come into play when anglers set out to become professionals," Lassagne told ProPatterns. "Being able to fish isn't enough. You have to be able to find and keep sponsors, and you have to be able to speak in public. Public speaking was a hurdle for me when I started out, but once I gained that skill, that helped me with sponsors."
Lassagne also discussed how his role as Editor-in-Chief of BAM helped him gain access to many of the best anglers in the world. "Being able to get in the boat with these guys helped me open my eyes to what other people were doing." Lassagne, who has had "the chance to fish with some of the best in the world," recommends those starting out "go fish in some opens, see how other anglers are doing it." Doing this, he says, "increased my learning curve."
Lassagne adds that "contests like Exposed Eligible? are wonderful. Even though not everybody can win, these videos are getting out to thousands of people, and that's what it's all about." Lassagne went on to discuss why he was throwing his hat into the ring. "A contest like this is a great opportunity to 'expose' myself to a whole bunch of anglers and promote my own sponsors. Plus, I might have the opportunity to fish with Timmy."
The grand-prize winner of the Exposed Eligible? film contest will win a travel package that takes them onto the water with Elite pro and television personality Timmy Horton. The day of fishing will be filmed and become part of the next season of Exposed.
Exposed Eligible? contest submission guidelines can be found at http://www.ProPatterns.com or fans may visit the Exposed Eligible? Facebook page to view and vote for their favorite videos.
Fishing enthusiasts can find Bass Angler Magazine nationwide at Tackle Warehouse, Bass Pro Shops, Cabela's, Gander Mountain, Walmart and better tackle shops everywhere. The magazine also is available in print, Mobile App or eBook versions. As part of the http://www.ProPatterns.com subscription package, members of the online service receive a complimentary eBook edition of the most current issue of the magazine.
More About ProPatterns, Inc. and Exposed:
ProPatterns, Inc. is a leader of angling education by sharing professional fishing tips, industry information and member services online. In addition, ProPatterns offers prize filled competitions, sharing of information among peers, and connections to industry professionals and media through means available nowhere else.
Information is gathered from various sources and disseminated with members in a variety of ways. The Exposed video series, for example, gains all of its integrity from an alignment with the biggest names in the bass fishing industry including professionals who fish with BASS, FLW, and PAA. Cooperation from the anglers and their willingness to share is the catalyst for the growth of this series.
For #exposedeligible contest information and rules, the Exposed video series, and all other ProPatterns offerings, and to become an ELITE or Social ProPatterns member, please visit http://www.ProPatterns.com.