By Mark Lassagne with Ish Monroe
Undoubtedly the most important consideration when going fishing is the weather. Weather not only affects how the fish bite, it also lets us know what to wear and how to prepare for the day. Imagine not knowing what it's like on a given day, showing up in shorts and a tee to find it 45 degrees and blowing 30 mph – you'd probably have to head back home.
Most anglers now have smart phones and the internet – so they have a general idea of what the weather is going to be – but what about on the water when conditions can sometimes change in a hurry? I can remember several times where the conditions went from slick calm to being nasty very quickly.
INFORMATION IS KING
When you're fishing for a living information is key. You need good information from every source possible or there's no paycheck at the end of the day.
You might ask how important is the weather? Let me tell you – I use it all the time, every time I go fishing.
A few years back I won an Elite event on Okeechobee by staying out of the rain
. Using my Sirius weather on my Lowrance, I could watch the areas where it was raining and anticipate where the rain was heading.
If you fish for smallmouth much you'd know they bite better when it's sunny, so during our last Elite on Champlain event I used Sirius to stay in the sun – and I ended up cashing a $10,000 check.
Fall: this is the time of year the fish bite better during a storm. Say you're sitting at the ramp. You can use your weather to get an idea of how and where the fish will be biting. If there's a storm coming in you can see the intensity, location and direction – then head that way for a possible reaction bites and use finesse fishing where it's flat and calm.
It's well known by pro anglers that "the wind is your friend." A good steady breeze can break up the surface clarity of the water, which stirs up the plankton and microorganisms that make baitfish go on the feed. These factors affect gamefish which make them easier to catch.  Knowing where to find the right conditions can help an angler catch more fish and being able to see where the wind is having the right kind of impact on a shoreline can help them be there when the fish are the most aggressive.
HOOKING IT UP
While my Lowrance units help me see the bottom clearly; help me locate schools of baitfish and ultimately help me find fish on any body of water, there are more features that help me stay ahead of the game.
Going back a few years, Lowrance introduced their SiriusXM Marine Weather receiver that connects right to an accessory port in the back of my unit, or combined with the SonicHub for Sirius XM Radio.  Of course, if you know
me, I want to enjoy my music on the water whenever possible, so I installed mine with the SonicHub.  This combination lets me listen to beats while I'm fishing, and see weather coming that can help me make the necessary decisions.
CURRENT CONDITIONS AND FORECASTS
Knowing the current conditions are not only key in putting together a good fishing plan, it also plays a big role in being safe on the water.
Here are some of the things your Sirius XM weather will show:
GREY – Shows cloudy areas
GREEN – Shows where it is currently raining (Light Green is light rain / Dark Green is heavier rain)
YELLOW- Rain mixed with possible thunder and lightning
ORANGE – Conditions are worsening
RED – Shows things are bad and time to move – Rain is most likely so heavy you won't be able to see more than few feet and can also be mixed with wind.
LIGHTNING BOLT SYMBOL –shows where lightning is occurring. (You can also set up a guard zone to stay away from the lightning)
WIND SYMBOLS – Shows you the wind speed and direction for the entire lake or region.
STORM SYMBOLS – Shows you each storm cell within a larger storm – where each smaller storm is heading and the speed it is traveling.
Another great option is the forecasting selection where you can look up to 36 hours ahead to determine where you're going to fish and what you might expect in certain areas.
In the ocean and Great Lakes region you also have the ability to see wave height and water temperature.
OPERATION
The SiriusXM Marine Weather receiver displays an overlay with up-to-date weather information via satellite on my chartplotter that is highly visible at the helm. The signal is not dependent on a cell signal which is often patchy on the lakes, inshore, and coastal areas.  When I'm looking at my Insight Genesis maps, I can see what the wind will be doing.  It tells me the direction the wind is coming from and how strong it is.  It also provides me with NOAA Marine Zone weather forecast and gives me the most recent buoy reports.  Combined with the NOAA weather reports, I can watch the progress of high-resolution NEXRAD radar tracks storms across my screen.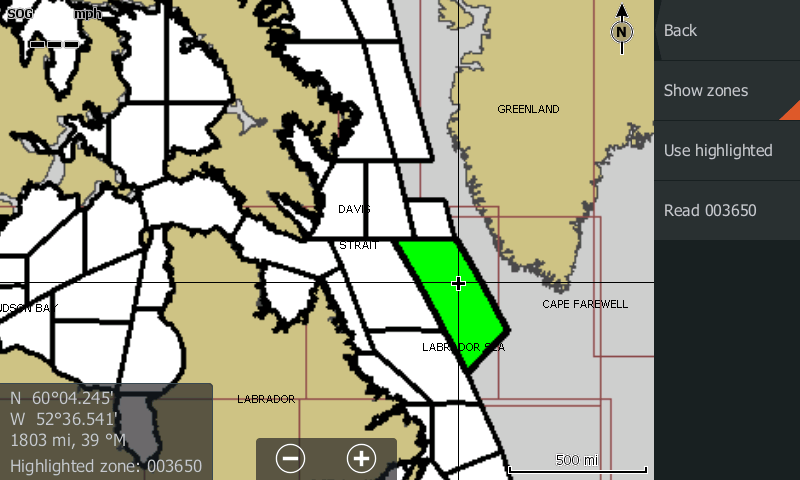 Having the SiriusXM Marine Weather receiver and its capabilities has helped me make better decisions on the water. It has helped me put more fish in my boat no matter what part of the country I am fishing, or whatever species I am after.  It has also helped make sure I have the information I need to get home safely, while I listen to my favorite channel. It's like having a weatherman in the boat with me every time I go fishing.
Mark Lassagne of San Ramon, California is professional angler competing in the events across the West Coast. Follow Mark at www.facebook.com/marklassagnefishing  or www.ezbass.com.